Matt O'Riley's former MK Dons mentor Liam Manning has backed the youngster to turn his form around.
He always backed the midfielder to be a success as he was a consistent performer for him and saw a lot of brilliant attributes in O'Riley's game as he had great leadership abilities on the park.
Before making the switch to Glasgow, he had put MK Dons in a strong position in League 1 and although Manning was disappointed to see him go he has taken a lot of satisfaction from seeing his former player perform in the Champions League.
It is very easy to forget that the former Fulham academy graduate is only 22-years-old and is still developing on the park.
He played a key role since his arrival at the club last year in the Hoops quest for the title having been thrown in at the deep end in the 2-1 win away to Hearts at Tynecastle.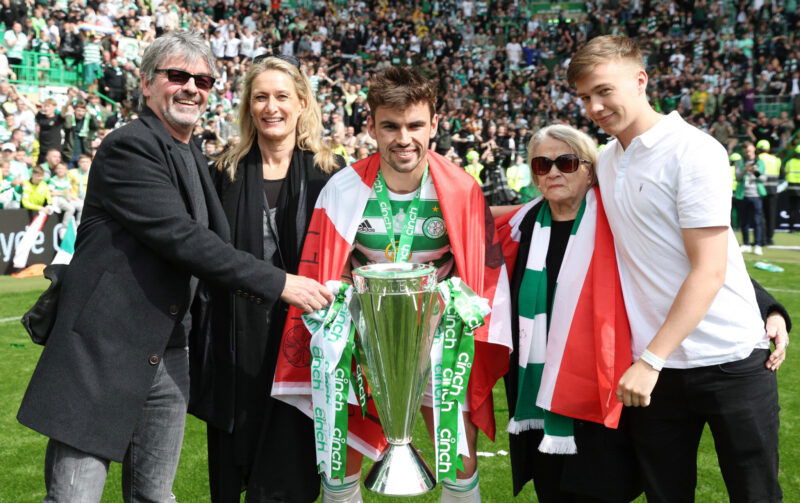 This season he also had to fill the role of Callum McGregor in the team after the captain was injured against RB Leipzig and did a fairly decent job filling the position as Ange Postecoglou admitted that O'Riley and Reo Hatate had to carry the load.
He was the on cusp of being selected for the Danish national team squad at the World Cup but that call-up isn't likely to be too far away.
However, in recent weeks since Aaron Mooy's return from the World Cup many would have selected the Australian mixing over O'Riley as some are beginning to ask questions about his performances.
The former MK Dons midfielder is yet to score for Celtic in 27 appearances this season which some think is a bit of a concern.
Manning has backed his former player to bounce back and has urged Hoops fans to show faith in him as he will play his way out of trouble.
"One of Matt's biggest attributes is his confidence, his self-belief. Matt is in love with the game which is so refreshing as 22," said Manning speaking to the Daily Record.

"He is obsessed by it and will continue doing what he does. One hundred per cent he has the character to play his way through any little blip The challenge that he's set himself by setting the bar so high .. he will get back up there no problem. Matt's blips are seven out of 10.

Reuters/Lee Smith

"A lot of players go their whole careers where 80 per cent of their games are seven out of 10s. But with Matt he has had so many eights and nines that it stands out if he drops to a seven. The team is still doing really well which is ultimately the most important thing."
Tomoki Iwata is the latest addition to be added to the Celtic squad and O'Riley will know that he has to perform.
O'Riley's interest in the game is quite surprising as Manning has looked at the way he used to interact with information being fed to him.
"For his age Matt took on real leadership roles and took more responsibility than most in games, he said.

"A leader isn't someone that necessarily wears the armband, it's someone who takes responsibility. Matt would go and seek the ball in tight areas, under real pressure and look to get on it no matter if it was after a mistake. He would drive the team on by trying to get on the ball and move forward.

"That's what attracted Celtic. It's really rare in someone so young. But his character, he was really driven to improve.

"I used to sit and do a lot of video work with him. He always wanted to do more of it in terms of seeing his game, learning the game, seeing his own strengths and weaknesses.

"We always knew he was going to get better and better because of that attitude. We did a lot of work with him twisting and turning out of possession.

"A lot of one v ones because he is so tall we worked on getting him into a better position so he could change direction quicker and things like that. Also bits of positional understanding.

"When we moved him to play lower as a six he had it in his head he couldn't join in attacks whereas we were actually looking for him to do both – so long as he got cover inside when he was doing it. He progressively got better at his understanding and when to join in attacks from deep.

"His numbers were higher in terms of goals and assists by playing lower than when he'd been playing as a 10. Matt just loves having the football so giving him the freedom to join attacks but also a pivotal role in build-up was something he relished.

"I wasn't surprised to see how seamlessly he fitted into the Celtic style. You can talk about tactics but Matt is just a very good footballer, simple as that.

"I was gutted when he left. You can't replace that quality or it's very difficult to replace it in League One. But I watched him in the Champions League this year and it's a massively rewarding thing when you work with someone and they progress to that level.

"I couldn't have worked with a better character, a better lad. Seeing him achieve what he has and hopefully what he does this season – it's a special moment for everyone involved."