French publication L'Equipe have CLAIMED Celtic and Monaco had a deal in place this summer to take Odsonne Edouard away from Glasgow and back to France.
The window closed on Monday night but the suggestion has been made that Eddy may have not been here if Monaco hadn't pulled out of a deal for the player last minute.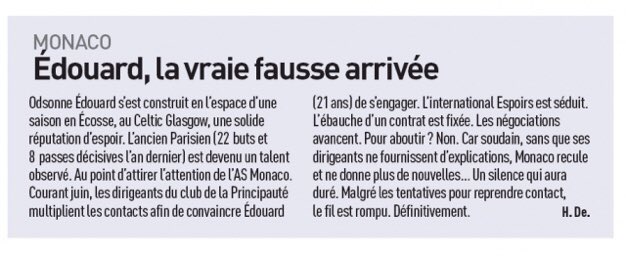 Translated by Celtic_FR on twitter this is the crux of the claim: "In June, Monaco multiplied contacts to sign Odsonne Édouard. Édouard was seduced, the outline of a potential contract for the youngster was drawn up, and then, without explanation, Monaco walked away from the Celtic player."
L'Equipe have ran a lot of Celtic stories in recent memory with not many of them coming to fruition. We can't confirm the legitimacy of these reports and it seems pretty futile to report on them now.
Edouard is away with the France Under 21 team for their international doubleheader in September and it may just be some mischief-making by the paper.
Eddy has been a standout for Neil Lennon's side and was instrumental in winning at Ibrox on Sunday. We have ran out of superlatives for the player as of late.
Regardless of what's true and what's not here – the fact remains, Eddy is still a Celt!