A JAPANESE JOURNALIST has been left fuming with Hajime Moriyasu's decision to leave Kyogo Furuhashi and Reo Hatate out of the squad for the country's upcoming friendly matches.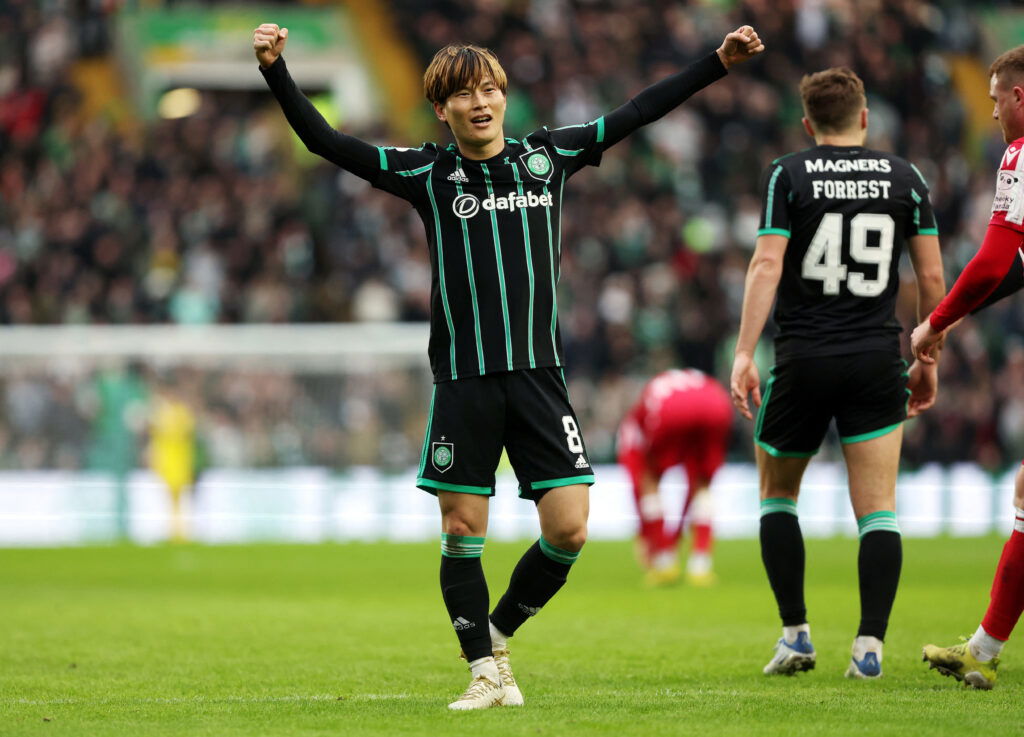 Celtic teammate Daizen Maeda will be jetting off for matches against Uruguay and Columbia next week.
Kyogo has 26 goals to his name, and in the eyes of Sugiyama Shigeki, he should be the first striker on the list to get called up.
The Japanese journo didn't accept the national team boss' reasoning for Kyogo and Hatate's snub, making some damming accusations while stating facts which proved Hajime Moriyasu's explanation wrong.
He wrote: [Football Scotland]
"Regarding the reasons why Reo Hatate and Kyogo Furuhashi were not selected for the World Cup in Qatar and this time as well, 'From a comprehensive point of view…', 'The level of the league…', 'Celtic's match I watch every game, but…', etc," Shigeki began.

"But if they were runners-up last time, I think they should have been picked this time.

"If Celtic's Champions League player, who has played a key role, has to be selected not only for the World Cup finals but also afterward, it is clearly on the level of likes and dislikes.

"Furuhashi's rivals are Asano, Ueda, and Machino. At league level, the order is Asano (Germany), Ueda (Belgium), Furuhashi (Scotland), Machino (Shonan/J League).

"In the UEFA rankings, Germany ranks third, Belgium eighth, and Scotland ninth. Bochum are currently ranked 14th in Germany. Cercle Brugge ranks eighth in the Belgian league. On the other hand, Celtic have already won the championship.

"It has to be said that Furuhashi has the best track record.

"Even if Moriyasu's opinion of Furuhashi is lower than Asano, Ueda, and Machino, this is the principle of digging up fields, and Furuhashi should come first.

"Manager Moriyasu had to show his magnanimity enough to select all the players who were unfortunately not selected for the Qatar World Cup final squad. He needed to show that he had a fair eye before the first game of his continuation to the many candidates who were closely tied."
Kyogo's numbers this season should do that talking, and the fact it's not enough to get him called up to represent his country once more, gives journalists, like Sugiyama Shigeki, the opportunity to make accusations of favouritism.
While he didn't have the Champions League campaign, he would've wished for; there were promising signs there for sure.