CELTIC will find out who they will be playing on Thursday this morning when the game between Riga and Tre Flori finally gets underway. The game was hanging in the balance on Thursday night due to the stadium not being ready but now the game will be played at 9am this morning. The winner will face Celtic at their home ground in a one-off tie.
If Celtic get through to the playoff of the Europa League, they could draw some very difficult teams.
Celtic will be unseeded for the draw which will take place today at 1pm at UEFA headquarters. It means Celtic could draw any one of the five seeded teams below. But they could conceivably draw any team from the unseeded pot.
Five unseeded teams will be drawn against the seeded sides, the remaining six clubs will be drawn against one another.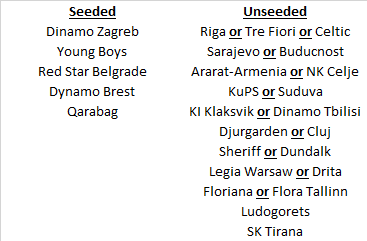 Zagreb who were also knocked out of the Champions League by Ferencvaros and could face Celtic if the Scottish Champions get past either Riga or Tre Flori.
Other ties such had Legia Warsaw or Young Boys offer real competition. Artur Boruc is currently playing for Legia and in the off chance we draw the Polish side at home, it would represent a return for the holy goalie.
As like all draws this season, the playoff tie will be a one-legged affair and the side drawn first will play at home.