Since the Celtic Family have been introduced to Wee Jay Beatty he has taking the Celtic fans and Football world by storm. At the end of last season our former manager Neil Lennon handed him his league winners medal to the young bhoys delight. Shortly after been gifted the medal Georgios Samaras took Wee Jay from the stands and carried him around celtic park for a lap of honour.
It was these two wonderful gestures that gave Wee Jay his world wide audience and allowed him into people's hearts. You'd think after a moment like that it would not get any better but Jay has been a busy bhoy. He's met presidents, he's had song wrote about him, he's been awarded the SPFL goal of the month and is now in contention for a FIFA goal of the year award. Jay has his own song, written by Charlie and the Bhoys. He's entered into players changing rooms and gave inspirational team talks. Not to mention countless television appearances. But most importantly he's brought huge awareness to Down Syndrome and Downs & Proud, a support group for children and families living with down syndrome.
Yesterday marked the 100th year of Brother Walfrid's passing and the scenes from a foodbank collection outside of Celtic Park were both inspiring and sad. The collection was made by Celtic fans and the collected over £30,000 pounds worth of food. This is just another example of what makes Celtic Football Club "A club like no other"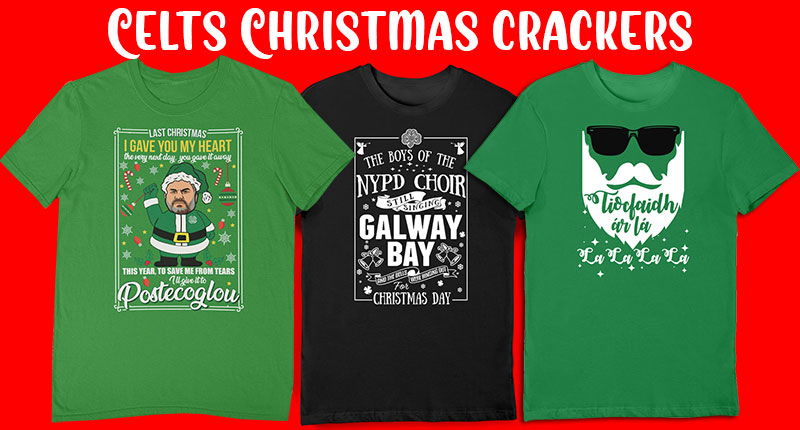 TRANSFER SPECIAL
Just over a week ago Celts Are Here started selling Tee's for Tims and truth be told we were quite taking a back with the interest in our designs so it spurred is on to design more. Giving the week the club was going through, with charity in the spot light the team decided to work on a design for charity. Only one charity, or only on person came to mind and that was Wee Jay. We contacted Martin Beatty, Jay's father to see what he thought of the idea and he was pleased for us to go ahead with the design and t-shirt. All profits from the t-shirt will be passed over to Martin for "Downs and Proud"
Martin had the following to say:
"A T-SHIRT in honour of a very special Bhoy which shows what can be achieved if you Believe. All profits from this shirt will go to Downs & Proud and will hopefully help make a big difference in the lives of so many. Thank you for your support from a wee Bhoy like no other to a Club like no other…."
We have kept the cost of the design as low as possible while still hoping to raise some much needed funds for the charity. If you find yourself reading this article and not able to afford the shirt you can make a donation or buy some stationary from the Downs & Proud website.
Thanks for reading and thanks in advance to everyone who will support the charity and Wee Jay.