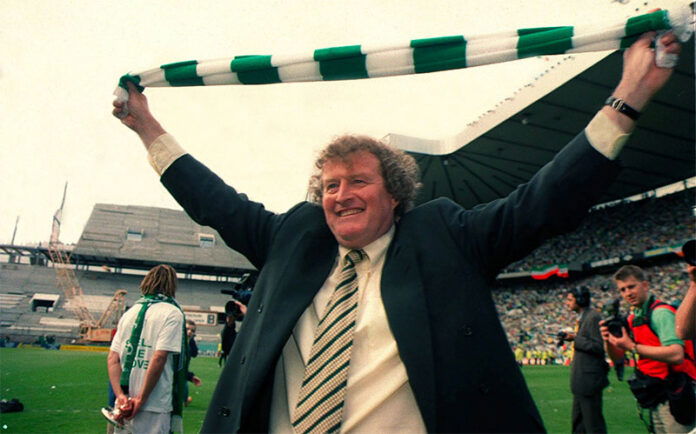 It's a sad day for football, it's a sad day for Celtic.
The news Wim Jansen had passed away hit me like a ton of bricks this morning.
Celtic Football Club is a collective; an amalgamation of heroes, villains, supporters, managers and players who have passed through Parkhead's gates and contributed to a rich history we continue to celebrate as we carve out the future.
Celtic is also a very personal thing; something that might be significant to you and your fandom might not be as pivotal to the next guy or girl. We all have our memories, we all have those moments that stick out in our mind, for whatever reason.
Wim Jansen holds a special place in my personal Celtic story.
I was born in 1989, and by the time I started going to football, Celtic was in disarray on and off the field. I went to the games with my father and can vaguely recall some games – I'm told I was in the Jungle the day Tony Cascarino managed to find the back of the net. I recall many parts of Tommy Burns tenure, the three amigos and the entertaining football that was on show.
When Wim arrived in Glasgow, I was a young lad, but I remember it well. Not knowing any of his back story or where he came from, only knowing, he was now tasked with winning Celtic's first title in ten years.
The enormity of the task the Dutchman took on was only fully appreciated as I got older. The man himself didn't think twice.
"When Celtic offered me the job I knew within one second it was right for me." Wim recalled.
The former Feyenoord man walked into Celtic Park knowing he was responsible for trying to protect Celtic's record breaking nine-in-a-row feat, set by Jock Stein and his famous Celtic sides.
Rangers were rampant, while Celtic just a few years prior had nearly gone out of existence.
Brought in by Fergus McCann, Wim broke a Celtic barrier; he was the first non-Scottish, Irish or British manager to take on the role of Celtic boss. More would follow, but none of them can match his impact.
The 97/98 season saw Celtic claim their first League Cup in fifteen years which would set Celtic up for success on the final day in May of 1998.
Signing Henrik Larsson would be the catalyst for everything that followed. But it wasn't just Henrik. Guys like Paul Lambert, Stephane Mahe, Craig Burley, Rieper and Jonny Gould would all play their part.
Unbeknownst to me and many Celtic fans at the time was Wim and newly appointed chief executive Jock Brown were constantly at odds during the most famous of seasons. Something that would ultimately cut his time at Celtic short but not before he made history.
That season, I watched a Celtic team full of courage and talent not only try to win but win the Celtic way.
We were never going to win the league at a canter and the champagne was already on ice down at the Louden Tavern [An infamous Rangers pub]. A famous quote by then Dundee Chairman Ron Dixon was also telling of the times.
"The only thing they should discuss [in Scotland] is how long they're going to play the League each year before giving the Championship trophy to Rangers."
There were thrills and spills as Wim tried to achieve where so many others had failed.
Celtic could have won the league with a game to be spare away from home at East End Park, but could only manage a draw against Dunfermline.
The league title would go down to the last day of the season – Celtic vs St Johnstone.
Many believed Celtic would choke again as they did at East End Park the week prior.
I walked up to the game that day with my Dad who was as apprehensive as I'd ever seen him. We got into the stadium that day and even as a young boy, I could feel the tension, the anticipation – how was this story going to end?
Celtic Park wasn't finished construction fully yet, and believe me when I say there were more Celtic fans in the stadium than had a ticket. Squashed between a lot more Hoops fans than usual, I watched Henrik Larsson give us an early lead with a cracking goal. There was a wave of fans behind me falling into the row below them and I remember my Dad trying to shelter me from the madness.
As the game wore on, St Johnstone grew into the game and was looking the more likely to score. Was I about to see Celtic choke on a colossal scale?
News filtered through to the stadium – Rangers had taken the lead at Tannadice. Adding to the angst.
Pre-dating smartphones, there was a lot of misinformation about what was going on at Rangers vs Tannadice. People with pocket radios were being harassed for the scoreline as Celtic kept their slender lead.
Enter Harold Brattback.
Coming off the bench in the second half for Simon Donnelly, the striker would send Celtic Park into utter chaos. Jackie McNamara played the ball through to Harold who adjusted his stride and slotted home the all-important second. There were cheers, tears and a whole lot of grown men gripping onto each other for dear life. This was it, this was the moment.
Wim Jansen had brought Celtic to the brink of their first title win in a decade and the Celtic fans were rejoicing. I can still picture the view from my seat as Tom Boyd gets set to take a free kick in the St Johnstone half when the referee walks towards the ball, lifts it up and points to the tunnel. The league was ours, Wim and his unlikely heroes had done it, Rangers did NOT beat Celtic's record.
The stands emptied as many fans rushed onto the pitch to celebrate with the players. I stayed in the stands with my Dad and watched the madness unfold. I was watching Celtic lift the league title for the first time.
BBC Radio 5 man Roddy Forsyth perfectly summed up the emotion of the day as Celtic Park belted out You'll Never Walk Alone "Scarves, banners, jerseys, green and white hoops raised in triumph.
It may not have been a vintage championship but believe me it will taste as sweet to these Celtic supporters as any they have ever secured because they have stopped Rangers from taking away the history book record of ten in a row.
And perhaps the best tribute should be paid by simply listening for a few seconds to the Celtic fans singing their beloved anthem."
I still get shivers when I hear the commentary.
Wim gave me and so many other Celtic fans in attendance that day a moment in time that we simply will never forget. In doing so, the former Celtic manager immortalised himself.
We're all stories in the end, Wim's captivating season at Celtic alone is a fantastic read. Of course, there's much more to Wim than just his season at Celtic, but the year he spent in Glasgow is etched in the history of the club.
There are so many fans now who didn't see that team and weren't even born when Jansen was the Celtic manager. It's important to tell our stories and pass them on to the next generation.
Wim Jansen is a Celtic legend in my eyes.
The announcement of his passing has filled me with sadness, however, sharing my story about how the great man helped shape my memories and my love of Celtic – I can't help but smile.
RIP Wim the Tim.
You'll Never Walk Alone.